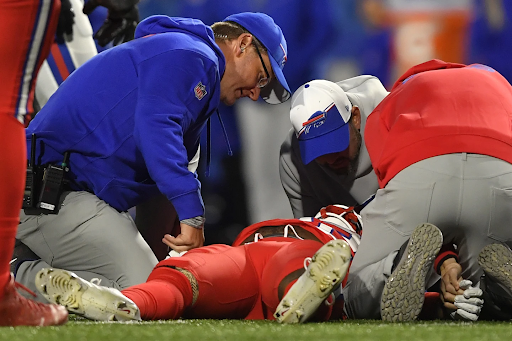 Buffalo Bills running back Damien Harris, who exited Sunday night's 14-9 win over the New York Giants after a neck injury, was released from a Buffalo-area hospital on Monday.
 He showed a thumbs up while being loaded into the ambulance after a hard tackle by linebacker Bobby Okereke on a 1-yard gain up the middle to convert a third-and-1 situation. 
Medical staff rushed from the sideline to attend Harris while Bills fans watched, wearing astonished faces. His coach Sean Mcdermott says that, "It's my understanding he has full movement." "Fortunate that he is seemingly heading in a good direction, with the reports we are getting. So I am very thankful to God for that." 
McDermott also said quarterback Josh Allen was examined for an injury to his throwing shoulder, with tests revealing no damage. Reporters say that they both will be talked to on further notice.