Are Sports Interfering With School?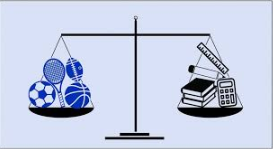 Hang on for a minute...we're trying to find some more stories you might like.
      Having to keep up with school work every night is stressful on its own. Getting home and finishing your homework before a deadline is not easy. Adding sports to the mix doesn't make it easier, in fact, it makes it much harder. There a lot of kids playing travel sports and not getting home until 9:00 at night, some even later than that. On top of the homework that they still must scramble to do, they have to shower and eat dinner. All things considered, some of these kids aren't going to bed until 11:45 or 12:00.
      A whole different issue is the student-athletes that say things such as "I don't need to do good in school I have football", or another sport. These kids are not going to get scholarships to play that sport at the school of their dreams if they have horrible grades. If they really think football (or any other sport) is their future, then they must find a balance between sports and academics to make it happen.
      To wrap it up, school is important. Compromising academics for your "dream job" of sports, is never the answer. If you really love your sport then the most important thing is being able to keep up with both schoolwork and athletics.