Iran is in Major Flood Crisis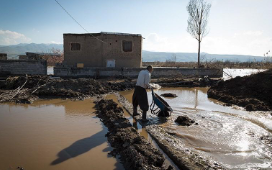 Hang on for a minute...we're trying to find some more stories you might like.
Weeks ago major raining and storms erupted in Iran. Now, most of the country is under water. 25 out of 31 of Iran's provinces have been affected by these storms. They are in a major crisis. 12 percent of Iran's country is agriculture meaning that these floods will have a major effect on the economy. 76 people have been killed so far and 150,000 have been damaged.
Iran is blaming the US for some of this. "The heads of the American regime have revealed their true vicious and inhuman nature," President Hassan Rouhani said at a cabinet meeting screened live on state TV, according to Al Jazeera. While others are blaming Iran's mismanagement and unpreparedness.