Are Concert Tickets Overpriced?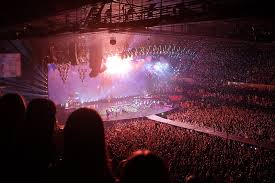 Rylee Bleakley, Opinion Writer
May 24, 2019
Hang on for a minute...we're trying to find some more stories you might like.
One of the things teens enjoy most is going to concerts. See your favorite artist live is a dream most have. However, paying the price to achieve that dream is a pretty hefty expense. Major pop concert ticket prices worldwide increase at a rate much faster than inflation, and that's why each year they appear to be even more overblown.
With the average concert ticket price for 2018 ringing in at $96.31, many are questioning whether or not these prices are worth it. Some spend all their savings just to go to one concert and sit in a decent seat. To see artists like Taylor Swift or Ariana Grande, you pay around $150-$200 just to sit one level above the floor. And to sit on the floor level, it's usually above $500. This cost may seem worth it at the time, but after the concert, most question why they spent so much just to hear two hours worth of live music. While the concert may have been the "best night of your life", you had to pay so much in order to experience it.
The main reason for these extreme ticket prices is supply and demand. Even after the exorbitant prices, fans are still buying the tickets. This cause artists to go to big arenas to fit more people. These arenas, however, come with large fees. Another factor is how big the production is at concerts. The cost of putting on a show, from stage production to backup dancers to indoor pyrotechnics and even holograms, has skyrocketed along with the price of concert tickets."There is a lot more production that goes into [concert production these days]," Ticket Alternative Bluett says. "Everybody's trying to put on the most elaborate show they can." "You're building a $3 million home for a night and tearing it down," says Ross Schilling, artist manager with Vector Management, who has worked with big names like Lynyrd Skynyrd, Kid Rock and Toto. The cost of creating these ephemeral wonderlands has to get passed on to the consumer via the ticket price.
So, the next time you go to buy tickets to a concert, consider the prices. If you really really love the artist, then you will take any seat at any price. However, if you can live without seeing an artist live who is charging hundreds of dollars for a ticket, then don't go. Sometimes, the cost is just not worth it.