Ms. Bolander: Beginning Teacher of the Year 2020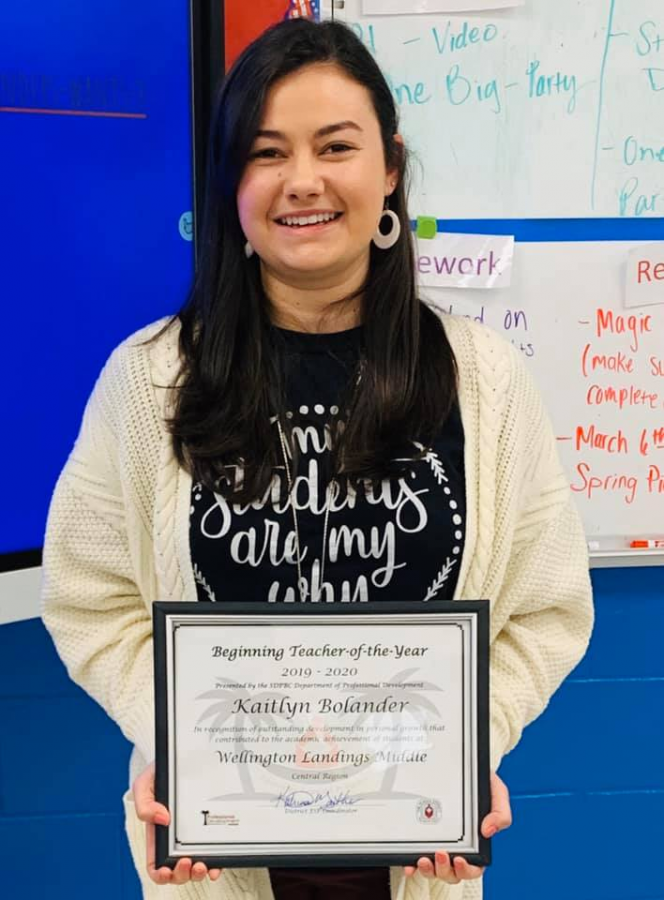 Tyler Simpkins, Writer
May 18, 2020
It all started out in January, when she was attending her normal civics meeting held every other Monday, for beginning teachers just like her. The administration staff such as Ms. Bennett, Ms. Luis, and Ms. Baldwin told her that they were able to nominate a beginning teacher of the year from WLMS.
Two weeks later, Mr. Fill walked into her classroom and told her to meet him in his office at the end of the day.  He sat down with her and told her that she had won the award for our school and would be moving on to the next step.
"It was a very lengthy process" she stated. "I had to fill out an application and had to write three essays about my teaching experience and how I have grown as a teacher." Success could not stop for this very lucky teacher, and it was announced that her application was chosen, and she would have to do an in person interview in order to move on. She was interviewed that day and soon after that, the contest runners showed up to her classroom during her 6th period class and it was announced she won for her region. After that, it was game on, and there were only three teachers left. 
The day finally came where it was announced she won the entire competition. She found out because she was invited to a google meet with all the administration staff, and they told her she won. Her immediate reaction she claimed was she was shocked and she didn't think she would win. 
"I have many people to thank, such as my students, family, teacher friends, administration, cafeteria workers, and my whole school community. I myself did not just win, I couldn't have done it without everyone who supported me."