Online Instead of Face to Face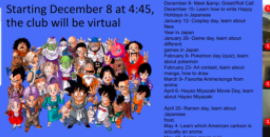 Ever since Landings had to close its doors, the clubs had to shut down right along with it. These clubs were closed for the safety of students and event leaders to make sure that social distancing was practiced. It stayed like this for a while until some clubs started to reopen up. 
However, there are some things different this year than how we did things last year obviously. For starters, only a limited number of clubs have reopened for example, track and field hasn't reopened nor basketball for reasons like needing to wear a mask during physical sports and activities. As for the clubs that have reopened, students are given a meet code and a time to attend their first club meeting so that the club leaders can write down students who are going to be joining the club. 
The way that they get google meet codes out to students is by showcasing it on the morning announcements allowing students to be informed of what time to join the meet and what days. 
Clubs are things that we all enjoy doing because it helps us connect with people to similar interests so knowing that they're slowly starting to open up should be a relief for everyone.