Having a Safe Valentine's Day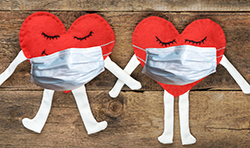 Due to the ongoing pandemic, Valentine's Day will be very different this year. Many couples will not be able to travel in order to see each other, friends might not get together like usual, and many people will spend the 14th of February alone. 
Nonetheless, there are numerous alternatives to the standard traditions which can decrease the chances of infection. 
As a way to social distance and still, have fun with a loved one or friends, staying at home is the best choice. Inside, people can watch movies, paint together, cook or bake, and even play board games. 
Another interesting option is to camp or have a picnic outdoors. Of course, these activities require an open space where you and your group can remain distant from other people and consequently safe. 
Additionally, covid has made giving presents a bit difficult this year. However, online shopping and digital Valentine's cards are great replacements. 
This year's Valentine's Day is not canceled.