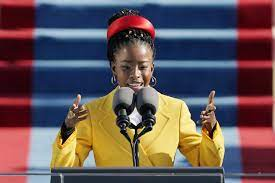 For the past hundred years, women have been looked down on just because of their gender. Many women are done with this and are making history by standing up for themselves and finally standing their ground. 
Women have been building their way all the way to the top of hard work. Many women like  Amanda Gorman. Amanda Gorman was invited to share her poem at the Jan. 20 inauguration of President Joe Biden. Amanda admits that she was "shocked" to be invited to share her poem. According to ABC News "Gorman, who has said she plans to run for president in 2036, delivered her poem at a historic inauguration that saw Kamala Harris sworn in as the country's first female vice president." She is working her way all the way up to the top and she is making her voice heard more than ever. 
Amanda is one of many, many women making a difference in the world for women and everyone can help. No voice is too small to make a difference and these women are making sure we are not shut down.