Kelsey Foster Teacher Spotlight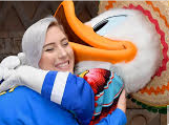 Q: How do you like WLMS so far and why?
A: "I love being back at Wellington Landings Middle School –I actually attended this school myself! My favorite part of being at WLMS is my awesome students and co-teachers. There is a wonderful sense of community amongst us that is irreplaceable." 
Q: Did you do educational jobs in the past if so what kinds of jobs did you do?
 A: "My very first job was actually working at WLMS in the Afterschool program. I ran the American Sign Language club. This fostered my love and appreciation for Afterschool. In college, I was hired as a one-on-one counselor for a student with a disability. I also worked as a permanent substitute teacher at this time. Eventually, I moved up within my Afterschool program to the position of Assistant Director. While I was very happy at my previous school, I realized that I had strongly preferred working with students, especially those with disabilities, as opposed to running an Afterschool program."
Q: What was the process of you getting to WLMS?
A: "Wellington is my hometown; when I graduated from college, I made the decision to move back home. I had many connections and wonderful memories associated with Wellington Landings, so I decided to reach out to see if any positions were available. Luckily, there was!" 
Q: What subject are you teaching and why?
A: "I teach Language Arts, Social Studies, and Social Personal Skills for my awesome students. I am very passionate about advocating for those with disabilities. Working with the ESE population is a perfect fit for me." 
Q: What are your future goals?
A: "I would love to continue my education and obtain a masters degree in Exceptional Student Education."
Q: How has your first day here been like?
A: "I had a lot of anxiety on my first day of teaching! While I had taught before, this was my first time teaching at a middle school. I was fortunately greeted with incredible support from my co-teachers and mentor. My anxiety was immediately eased once my students introduced themselves –they made me feel so welcomed and loved right away."