Wellington Landings Gator Welcome Center Welcomes You!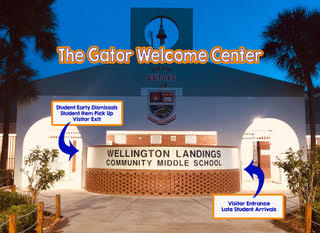 The Gator Welcome Center made its debut this school year. If you haven't discovered this new single-point entry at WLMS, it's time to find it so you are prepared for your early dismissal! The Gator Welcome Center is located between the Cafeteria and Student Services.
Do you know the round Wellington Landings brick wall at the front of the school? Well, the GWC is right behind it! There is an entrance from the main parking lot where all visitors must check in with their identification prior to going to their campus destination.
Another purpose for this office is for student late arrivals and early dismissals. However, you will enter through the door inside the school near the Cafeteria and the Boys Restroom. To acknowledge your arrival at the exterior entrance in the morning or interior door during the school day, press the doorbell so that Mrs. Sales can buzz you through.
When arriving after the 9:30 AM bell, for whatever reason, you must sign in and receive your Admittance Pass. There may be times you need to visit Student Services, but make sure you know where the GWC is too!  Look for the directional signs near Student Services and Cafeteria. Mrs. Sales welcomes you to the new Gator Welcome Center!