Student Spotlight: Raya Dittfurth Places Top 10 in Florida for Tennis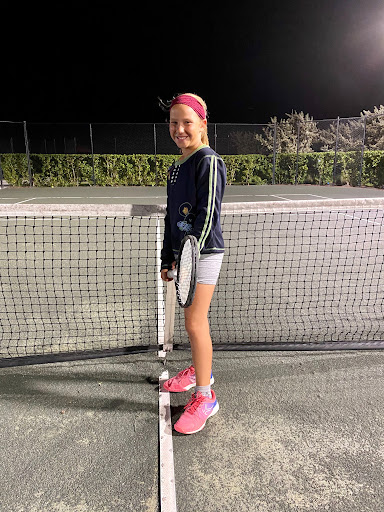 In an interview with 7th grader Raya Dittfurth, we were able to look into what really goes behind placing top 10 in Florida for tennis, along with her many accomplishments, and what led up to her successful career.
What was the reason you started playing tennis?
Well, I was really young and I wanted to start playing a sport. So I started playing tennis. Right away I loved it and wanted to keep playing. I started when I was about 5-6 and have been playing ever since. 
How does playing tennis impact/improve your life?
I think playing tennis has impacted my life by teaching me that if you want to achieve something you have to work hard, be disciplined, and be resilient. Tennis has taught me to stay emotionally strong in very stressful situations, how to deal with wins and losses, and how to be confident in my abilities.
What are some of your greatest accomplishments playing?
One of the greatest accomplishments I am most proud of is getting sponsorship. I recently got a sponsorship from Diadem. They provide my equipment and clothing.

Being in the top 5 for the state of Minnesota.
Why would you recommend your sport to other people?
I recommend tennis to others because it is such a fun sport that you can play your whole life. It helps you stay fit, build friendships, and you can enjoy it year-round. 
How did placing in the top 10 affect you and your playing?
I started playing tennis when I lived in Minnesota. I reached number 5 in ranking for the 12 and under category. This inspired me to work and train even harder. 
Who or what influenced your success in your sport?
I've had a lot of coaches throughout my life, and they have all been so supportive and involved in my success. However, the one person who has influenced me the most and who has been the most involved from the beginning would be my mom. My mom has always been so supportive of me and is always there while I'm following my dream. I wouldn't be as successful in tennis right now if it wasn't for my mom.