The History of The Menorah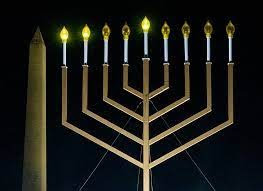 One of the things that everybody knows about Hanukkah is that a menorah is lit that consists of nine candles,but does everybody know why we light the Menorah?
Hanukkah is always celebrated on the 25th day of the Hebrew month, so when it came that time in 164 B.C.the days were getting shorter. This is because of the time change so light was urgent sice it was getting darker outside faster. Since the only light source they had was wax thats what they had to use.
But is wasn't all that easy. The wax would be lit is the temple and when they saw the wax it was clearly only enough for one day. But a miracle sure did happen because the wax ended up lighting for 9 days! So when it comes to the 25th day in the Hebrew month Jewish families will light the Menorah that consists of nine candles for nine days in honor of Hanukkah.