Ways Students Can Clean Up On Campus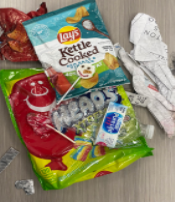 Unfortunately on campus, you may see some students throw candy or leftover lunch wrappers on any place besides a garbage can. Its become more common for students to litter and leave things around the campus that most likely shouldn't be there. Luckily, I believe that we should "Go Green" more or be more environmentally friendly. Ways to clean up our school are easy, it's just up to students to help out.
          For example, I've witnessed many students step on chocolate milk cartons after lunch and only laugh about it. This for one has to change. When we leave the cafeteria we should all cooperate and pick up extra garbage we may see.
         Another way that benefits our campus could be to always properly recycle paper in our classrooms. Instead of throwing paper in a normal garbage can, we should always put used paper in the proper recycling bin.