School Construction
Hang on for a minute...we're trying to find some more stories you might like.
As you may know, our school has been under constru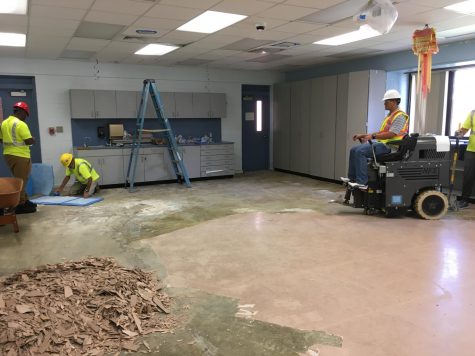 ction for a few months now. It started over the summer. The teachers were very pleased to know that this year they were coming back to a new classroom.  Now the kids are getting something new as well. Our 30-year-old bathrooms are getting redone!! The 100s and 200s buildings will be receiving new bathrooms throughout the year. As well as the 500s and 600s are coming next. The 900s have been under construction a little bit as well. Remember when you passed through the 900s building and it smelled a little weird? Well, that was because we had another coat of paint put on the walls and roofs. Even though renovations are occurring right now, the classroom construction will be continuing throughout this year and the next. We are happy to have a construction crew here every day all day helping to make our schools look great! Our parking lot near the flagpole at the front will be getting a makeover as well. There will be less traffic during pick up and drop off. This is good for students, parents, and teachers. Next year we will come back to a new and improved school!